Evolutionary ecology with specific interests on host-race formation and speciation in herbivorous insects, fire-induced plant and insect responses, and landscape management and ecology. Our studies use a quantitative approach through field, laboratory, and greenhouse experiments.

• Plant-Insect Interactions of Multi-Trophic Level Interactions using Goldenrods, Gall-Inducing Herbivores, and Herbivore Natural Enemies.
See also the Solidago/Eurosta and Natural Enemies web page.
A developing gall on tall goldenrod (Solidago altissima) induced by the goldenrod ball gall fly (Eurosta solidaginis). Our studies of this host plant and subsequently of this herbivore and its natural enemies date to 1971.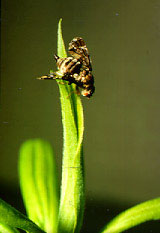 A female goldenrod ball gall fly (Eurosta solidaginis) on the bud of tall goldenrod (Solidago altissima). Our publications include the impacts of this herbivore on its host plant, the interactions of this herbivore with its natural enemies, and host-race formation and speciation of the gall inducer.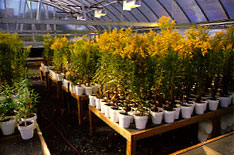 Greenhouse experiments used the David Burpee Research Greenhouse on the Bucknell University campus as well as the Biology Department's rooftop research greenhouse facility.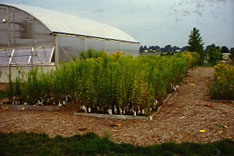 Common research gardens adjacent to the Burpee Research Greenhouse enabled study of replicated genotypes of goldenrod host plants.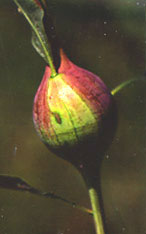 A ball gall on late goldenrod (Solidago gigantea) induced by a host race of the goldenrod ball gall fly (Eurosta solidaginis). Studies of the mechanisms of speciation via host-race formation in this herbivore and its inquiline tumbling flower beetle, Mordellistena convicta provide important insights into how biodiversity is generated.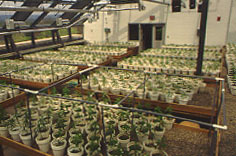 Biology's roof-top research greenhouse facilitated experiments with goldenrods, herbivorous insects, and natural enemies including the beetle Mordellistena convicta and parasitoid wasps Eurytoma obtusiventis and Eurytoma gigantea.
• Plant-Insect Associations of Oaks and Cynipid Wasp Gall Inducers.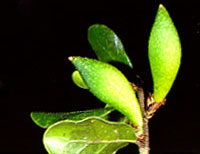 Several of our studies at Archbold Biological Station near Venus, Florida have focused on cynipid wasp galls on oaks including this bud gall on myrtle oak (Quercus myrtifolia) induced by a proposed new species of cynipid wasp, Amphibolips archboldi Melika and Abrahamson. Cynipid wasp/oak interactions in Florida Scrub offer an excellent study system for studies of fire-induced effects on insect communities as well as of modes of insect speciation as influenced by their host plants.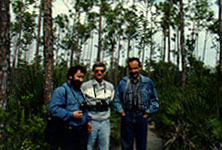 Our work on oaks and their cynipid-wasp herbivores has involved George Melika of the Plant Health and Molecular Biology Laboratory, Budapest, Hungary and György Csóka of the NARIC Forest Research Institute, Mátrafüred, Hungary. Our initial publications  primarily focused on the systematics of gall-inducing cynipid wasps and their oak hosts.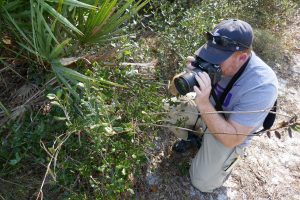 Current studies with Jim Cronin of Louisiana State University examine how cynipid gall wasp communities respond to fire. These studies are based at Archbold Biological Station.
• Ecology of Fire and Vegetation in Florida Scrub and Demographic Studies Exploring the Longevity of Dwarf Palms (Palmettos), Serenoa repens and Sabal etonia.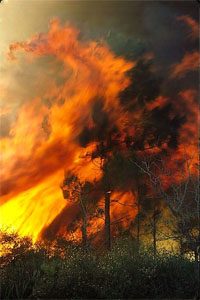 A prescribed burn at the Archbold Biological Station. Abrahamson, who began working at Archbold since 1972, initiated studies on the effects of fire on Florida Scrub vegetation in 1976 and began long-term studies of the demography and longevity of dwarf palms (palmettos) (Sabal etonia and Serenoa repens) in 1980. We have learned that Florida Scrub is both resilient to fire and dependent on fire as well as that individuals of the clonal saw palmetto are many thousands of years old. Indeed, 10,000 year old saw palmettos are very likely.
James Layne and abe enjoyed numerous collaborations on studies of Florida Scrub including descriptions of Archbold's Scrub vegetation, long-term vegetation dynamics in the absence of fire, and long-term studies of mast (fruit) production by five oak species (Quercus myrtifolia, Q. inopina, Q. laevis, Q. chapmanni, Q. geminata), scrub hickory (Carya floridana), and two palmettos (Sabal etonia and Serenoa repens).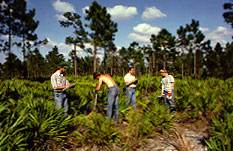 Numerous Bucknell students and Postdoctoral Fellows participated in Bucknell's January Programs by working with abe studying Florida Scrub ecology. Here, our crew was performing a nearest-neighbor analysis on the dwarf palms (Sabal etonia and Serenoa repens) in a cutthroat-grass flatwoods at the Archbold Biological Station.
Conservation of Central Pennsylvania Natural Areas including Montandon Marsh, Dales Ridge, Snyder-Middleswarth State Park, and Mohn Mill Ponds.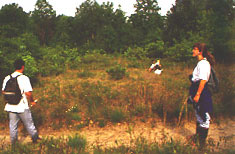 Abrahamson has worked with the Merrill Linn Land and Waterways Conservancy, Lewisburg, Pennsylvania to provide insights into the vegetation patterns of the uplands and wetlands of the conservation easement protected Montandon Marsh wetlands complex. The wetlands complex includes an excellent example of a freshwater marsh, hardwood swamp, and sand dune uplands and includes several species of special concern.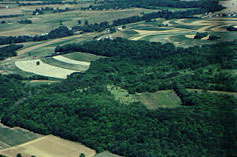 Our research included a study of vegetation patterns at Dales Ridge, a synclinal limestone ridge near Lewisburg, Pennsylvania. A portion of Dales Ridge is protected by a conservation easement held by the Merrill Linn Land & Waterways Conservancy.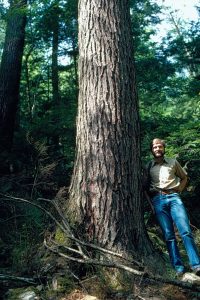 Our community ecology vegetation studies included the 500-acre old-growth Snyder-Middleswarth Natural Area, the 381-acre Mohn Mill Wild Plant Sanctuary, and Bucknell's 66-acre Chillisquaque Creek Natural Area. Data from two of these sites form the basis of the classroom learning object ECOSAMPLER. ECOSAMPLER enables students to study the fundamentals of sampling theory using virtual forests. The forest communities at Snyder-Middleswarth and Mohn Mill were digitized allowing students to employ haphazard, systematic, and random sampling methods while investigating sampling protocols based on sampling areas (quadrat sampling) versus distances (point-quarter sampling). Students can discover that the efficiencies of sampling methods differ according to the type of natural community being sampled and that species differ in their spatial distribution. ECOSAMPLER also examines the species diversity of the virtual forests and makes predictions about successional trends over time.